---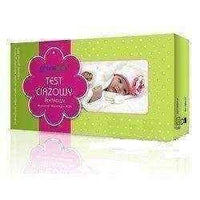 Sale
Pregnancy test. You suspect you may be pregnant, and you have to wait for a doctor visit?

Check your assumptions with the Greenmed GT-001 Pregnancy Test.

The test is accurate, easy and fast.
Action:
The Greenmed GT-001 Pregnancy Test among other products on the market is distinguished by a high sensitivity of 25mIU / ml. This means that detection of a hCG level in a urine sample is possible after about a week of fertilization. The advantage of the product is its simplicity and speed, the result appears after a minute. The effectiveness of the test is even 99.98%.
Application:
Pregnancy test plate Greenmed GT-001 recommended for rapid, early pregnancy detection.
Additional Information:
Keep out of the reach of children at room temperature.
How to use:
For a reliable result, read the package leaflet carefully.