---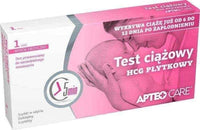 Sale
Fast, very easy to perform diagnostic test with high sensitivity (hCG concentration 20ml / ml).

The Apteo Care HCG plate pregnancy test displays the result after just 5 minutes, the accuracy of the result is comparable to the result of the laboratory test.
Includes Apteo Care Pregnancy Test HCG Platelet:
Sachet with test case and moisture absorber - 1 piece, urine container - 1 piece, pipette (dropper) - 1 piece, instructions for use.
Operation Apteo Care Pregnancy test HCG plate:
Diagnostic test - Apteo Care HCG plaque pregnancy test can be easily done by yourself. It detects the presence of human chorionic gonadotrophin (hCG) in the urine sample. Detects pregnancy from the 6th to the 12th day after fertilization, the test is characterized by high sensitivity - detects pregnancy at a concentration of hCG at 20ml / ml. The test is accurate and fast. Interpretation of the result is very easy - two lines mean pregnancy.
Application:
Medical device Apteo Care Pregnancy test HCG plate intended for use in the detection of pregnancy.
Additional information:
Keep the product out of reach of children at room temperature. It is recommended to protect against moisture and light. A disposable product.
How to use the Apteo Care HCG plate pregnancy test:
For external use. Use as recommended on the leaflet. Collect the urine sample into a container (included in the package). It's best to test the first morning urine sample. Take a sample of the urine with a pipette, apply approximately 2 drops to the test cassette. The test should be placed on a clean, flat surface. Read the result after 5 minutes. Positive result meaning pregnancy: two lines of equal color (in the test and control area). Negative result means no pregnancy: one line in the control area, no line in the test area. Invalid result: no visible line or line appears only in the test area. It is recommended to repeat the test.
---