---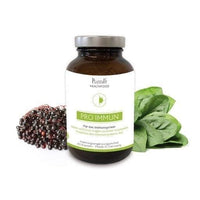 Sale
Vitamin B6, selenium, zinc, manganese, Calcium, PRO IMMUNE Capsules
During the winter months, our immune system is heavily challenged. In fact, our immune system even adapts to the demands of each season. But after the cold months, many people feel exhausted. We also need a well-functioning immune system in spring, when allergy symptoms increase rapidly. High-quality micronutrients help us get spring off to a good start.
pack size:
60

 
pcs 
Dosage form:
capsules
Vitamin B6, selenium, zinc, manganese, Calcium. Like nature in bloom

The long winter, darkness and cold and on top of that a diet low in vitamins - no wonder that the cold season saps your strength. It is no coincidence that many people suffer from spring fatigue. The fight against infections and an increased defensive capacity of the immune system have decimated the reserves of vitamins in our organism. Our body now needs supplies to replenish the empty reserves. Because in spring we are particularly susceptible to infections after winter. In addition, there is an increasing burden of allergens. Around 15 percent of adults and 10 percent of children in Germany now suffer from the most common allergy: hay fever. The cause is a malfunction of the immune system. A healthy, stable immune system is particularly important now.
Vitamin B6, selenium, zinc, manganese, Calcium. Minerals and vitamins are in demand in spring

The supply of minerals and vitamins is not only essential for life, it also helps to maintain healthy bodily functions and to increase well-being. Because the hearty, fat winter food is not exactly considered to be rich in important micronutrients - that's why we need food rich in vitamins and minerals, especially in spring. Vitamin C and vitamin B6 as well as calcium, magnesium, selenium, zinc and manganese are particularly in demand. After all, it's about getting fit again and strengthening the immune system. These essential trace elements are an essential part of the combination of active ingredients in the PlantaVis "Pro Immune" capsules. All ingredients are gently obtained from high-quality natural raw materials. Another plus is our exclusive cell protection complex made from selected fungal,

• Vitamin B6, selenium and zinc contribute to the normal functioning of the immune system.
• Zinc, selenium and manganese help protect cells from oxidative stress.
• Calcium has a role in cell division and specialization.
• Magnesium and vitamin B6 help reduce tiredness and fatigue.
• Vitamin C contributes to the normal functioning of the immune system

Recommended Vitamin B6, selenium, zinc, manganese, Calcium intake:
Take 2 capsules daily with sufficient liquid.

Hints:
The recommended daily dose should not be exceeded. Dietary supplements should not be used as a substitute for a balanced, varied diet and a healthy lifestyle. The product should be kept out of the reach of small children. Store the product dry, protected from light and not above 25 °C.

Vitamin B6, selenium, zinc, manganese, Calcium Ingredients:
Calcium carbonate, coating agent: hydroxypropylmethylcellulose, magnesium oxide, elderberry extract, L-ascorbic acid, quercetin, grapefruit powder, nettle powder, lemon juice powder, spinach powder, perilla powder, zinc chloride, spirulina powder, linseed powder, black cumin Powder, cell protection complex (camu camu extract with 20% L-ascorbic acid1, L-ascorbic acid1, jiaogulan extract, cordyceps powder, shiitake powder, caper extract, astragalosides IV (1%), barley extract with 20-25 % ß-glucan, chlorophyllin, melon extract (EXTRAMEL ® ), black pepper extract with 95% piperine), manganese gluconate, broccoli powder, pyridoxine hydrochloride, sodium selenite pentahydrate.


Vitamin C helps protect cells from oxidative stress.
Made in Germany
dietary supplements. The recommended daily consumption must not be exceeded.

Dietary supplements are not a substitute for a balanced, varied diet and a healthy lifestyle.

Keep away from children!