---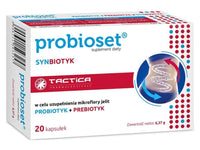 Sale
Probioset, contains a combination of probiotics and prebiotic-friendly health and proper functioning of the digestive tract.

Preparation supports the normal intestinal microflora and the beneficial effect on the body during and after antibiotic treatment.
Composition:
active substance 1 capsule contains 4 billion bacteria of lactic acid in the proportions: 42% Lactobacillus acidophilus (LA-5), 42% Bifidobacterium animalis subsp. lactis (BB-12), 11% Streptococcus thermophilus (ST-Y31) and 5% of Lactobacillus delbrueckii subsp.bulgaricus (LB Y-27), the filler (dehydrated dextrose), anti-agglomeration substance (magnesium stearate). Action:Probioset, the ideal combination of probiotic and prebiotic thereby forming a so-called fullest form - a synbiotic. It is friendly to the health of the formulation that protects the intestinal tract against pathogenic and spoilage bacteria, exhibits preventing chronic constipation and diarrhea, keeps the intestinal microflora equilibrium and helps digestion. Probioset been recommended in particular during and after antibiotic therapy and in all kinds of disorders of intestinal function. Application: Probioset, recommended for antibiotic therapy, diarrhea of different etiologies, reinforcing natural and acquired immunity. In addition, preparation regulates, strengthens and protects the body. Directions for use: Adults and children from 3 years of age: used orally 1-2 capsules a day.
---