---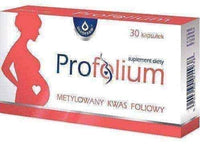 Sale
The advantage of the Profolium dietary supplement is that it contains the active form of folic acid. This means that it is better absorbed in the body. The preparation Profolium is recommended, e.g. as part of supplementation for women trying for a child and being pregnant.
Profolium ingredients:
Bulking agent: cellulose, hydroxypropyl methylcellulose (shell component), anti-caking agent: magnesium salts of fatty acids, anti-caking agent: silicon dioxide, dye: titanium dioxide, glucosamine 5MTHF.
The content of ingredients in one capsule Profolium (recommended daily dose): 5-methyltetrahydrofolic acid - 418mcg, including: folic acid - 400mcg (200% of the reference intake).
Profolium activity:
Folic acid taken with the diet must be converted into an active form in the body. Many people have a disorder of this process, thereby limiting the absorption of folic acid. Profolium dietary supplement uses the active form of folic acid, thanks to which it is fully absorbed in the body. Folic acid supports the growth of maternal tissues during pregnancy. In addition, it supports normal amino acid synthesis, and helps maintain normal blood production. Folate, which includes folic acid, is involved in cell division and helps maintain proper homocysteine ​​metabolism.
Application:
Profolium dietary supplement intended for use as a supplement to the daily diet with folic acid. Preparation for adults, especially recommended for women planning pregnancy, as well as women who are pregnant or breastfeeding, in addition, for people who want to take care of the proper functioning of the circulatory system.

Additional information:
Dietary supplement can not be used as a substitute, i.e. a replacement for a varied diet. Maintaining a balanced diet and healthy lifestyle is important. The product should be stored out of reach of children at room temperature. It is recommended to protect against moisture and light.
Contraindications:
Do not use in case of hypersensitivity to any component of the dietary supplement.
How to use Profolium capsules:
Recommended daily dose for adults: one capsule. Take after a meal. Do not exceed recommended servings for consumption during the day.
Net weight: 11g.