---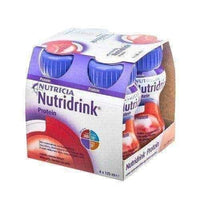 Sale
Protein NUTRIDRINK forest fruit flavor 4 x 125ml
Protein NUTRIDRINK forest fruit flavored effectively nourishes and strengthens the body weakened eg. Disease. Accelerates recovery. It provides the body with essential nutrients.
Protein NUTRIDRINK Composition:
the average content in 100ml: energy 240cal; Fat 9.4 g including 0.9 g saturated fatty acids; 24,4g carbohydrates, including sugars 13.3 lactose 0.3 g; 0g fiber; 14,4g protein; 0,10g salt; Vitamin A 260μg; Vitamin D 2,1μg; Vitamin E 3,7mg alpha-TE / ET; 16μg vitamin K; thiamine 0,45mg; 0,50mg riboflavin; Niacin 0,59mg; 1,6mg Pantothenic acid; vitamin B6 0,53mg; 80μg folic acid; Vitamin B12 1,1μg; 12μg biotin; Vitamin C 30 mg; At 40mg; K 105mg; Cl 60 mg; Ca 350mg; P 300; Mg 55mg; 2,1mg Fe; 2,4mg Zn; Cu 0,35mg; 0,63mg me; F 0,19mg; Mo 20μg; 14μg Se; 13μg cr; And 46μg; 110mg choline. Osmolarity 570mOsmal / l.
Protein NUTRIDRINK Action:
Nutridrink Protein flavored with fruits of the forest is extremely delicious and nutritious food for special medical purposes. It includes all the necessary nutrients selected in the appropriate proportions, eg. Proteins, fats, sugars, and vitamins and minerals. It has a high calorific value. The small volume (125 ml) is very large dose of energy and nutrients. It is a liquid that is easy to serve. It can be used as a supplement to a standard diet or be the only source of food. Protein Nutridrink flavored forest fruit is recommended to use during illness and during convalescence.
Protein NUTRIDRINK Contraindications:
- allergic to components of the preparation substance
- use in children under 3 years of age
Indications:
Use the product in the context of nutritional diseases and indisposition of the body (e.g.,. Cerebral palsy, Huntington's disease, Parkinson's, Alzheimer's disease, other dementias, cystic fibrosis, disorders, chewing and swallowing, anorexia). Also recommended before and after surgery and during recovery, and eating disorders, and increased protein and energy needs.
Dosage:
For oral use. To complement the diet is recommended to use product packaging 1-3 / 24 (300-900 kcal, 20-60 g protein). As a complete diet, replacing entirely traditional food can be administered 5 - 7 packs / 24h (1500-2100 kcal) over the period in which the patient requires nutritional support. It should receive the product after cooling. It is recommended to drink it slowly (1 pack of 0,5-1h).