---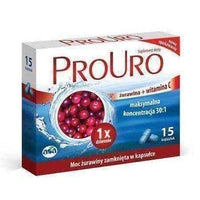 Sale
ProUro, contains in the composition valuable for the health of the urinary system Cranberry extract (

cranberry pills)

and vitamin C, and is recommended for people who have frequent urinary tract infections and weakened immunity.

Supplements for adults.
Composition:
One capsule contains:
10% extract of cranberry (Vaccinium macrocarpon) rich in proanthocyanins (PAC) - 360 mg (36 mg PAC), vitamin C - 60 mg.

Action:
ProUro is a dietary supplement for adults. Cranberry is known for many years for its beneficial effects on the urinary tract (urinary tract function) and its nutritional properties. It contains natural extracts of fresh fruits of the large-scale cranberry (Vaccinum macrocarpon) standardized for proanthocyanine content (PACs), nourishing and healthy. .
Plant compounds found in cranberries called proanthocyanins are maintained in the urinary tract, including the bladder; An environment unfavorable to the development of bacteria, They interfere with the attachment of bacteria to the mucous membranes of the urinary tract and aid in their removal from the body.
Cranberry is a valuable, healthy part of our diet, which is worth remembering every day. Vitamin C causes a decrease in the pH of the urine, which is a factor in keeping the urinary tract healthy.
Indications:
ProUro cares about the health of the urinary system and its smooth functioning;
ProUro is recommended for people suffering from discomfort in the urinary tract
How to use:
Orally 1 capsule daily. It is recommended to take the preparation during the meal due to better absorption of the ingredients. You should drink at least half a glass of water.
---