---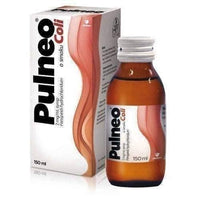 Sale
Children do not always want to take the classic syrups, so the company has created a unique syrup soothing cough and facilitates expectoration based hydrochloride fenspiride Pulneo with a delicious taste of cola.
Composition:
Content in 1 ml of syrup: fenspiride hydrochloride - 2mg and excipients: Methyl parahydroxybenzoate (E 218), propyl parahydroxybenzoate (E 216), potassium sorbate (E 202), 99.5% glycerol, sodium saccharin, sucrose, orange tincture bitter, sunset yellow (E 110), vanilla extract AR 0345, citric acid anhydrous, purified water.
Action:
Pulneo cola syrup contains fenspiride hydrochloride composition, as the active restricting the synthesis of inflammatory mediators such as cytokines, TNF-alpha, prostaglandins and leukotrienes and free radicals. Fenspiride also affects bronchodilators, so that extends inhalation. Syrup prevents histamine because it blocks histamine H1 receptors, which significantly alleviates the swelling of the mucous membrane of the airways. The product shows the antitussive effect.
Use:
The drug Pulneo syrup flavor cola recommended to treat the symptoms of diseases of the bronchi and lungs, especially cough and expectoration supportive. Suitable for adults and children over 2 years of age.
Additional information:
Keep out of reach of children.
Contraindications:
Do not use in case of hypersensitivity to any component of the drug and in children under 2 years of age.
Undesirable effects:
Allergic reactions, such as erythema, rash, hives, severe allergic reaction (angioedema), erythema turning into permanent discoloration;somnolence; rarely (less than 1 person in 1000) tachycardia disappeared after dose reduction; dysfunction of the stomach and intestines, nausea, upper abdominal pain.
Dosage:
Take orally, preferably at the beginning of the meal. Usual: children over 2 years of age: 4 mg / kg body weight per day (child less than 10kg: 10-20ml syrup per day, a child weighing more than 10kg: 30-60ml syrup per day); Adults: 45-90ml syrup per day.
---