---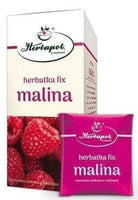 Sale
The infusion prepared from sachets The Raspberry Tea by Herbapol Kraków has an excellent taste and a refreshing aroma. The composition of the product is made of a fruit and herbal blend of hibiscus flower, rosehip and raspberries, enriched with natural aromas.
Ingredients Raspberry Tea envelope:
Raspberry fruit - 65%, hibiscus flower - 23%, rosehip fruit - 9.5%, natural raspberry aromas - 2.5%.
Nutritional value in 100g / 200ml of infusion prepared from one sachet: energy value - 585kJ (140kcal) / 8kJ (2kcal), fat - 2.5g, including: saturated fatty acids - 0.5g / 0g, including: saturated fatty acids - 0g, carbohydrates - 24g, including sugars - 6.9g / <0.5g, including: sugars <0.5g, protein - 5.2g / <0.5g, salt - 0g / 0g.
Action Raspberry Tea:
Sweet raspberries closed in a sachet for making an infusion. Raspberry tea in practical envelopes is a fruit and herbal tea. It uses raspberry and rosehip fruits as well as hibiscus flowers. Thanks to the natural raspberry aromas, the brew has an even more intense flavor.
Application:
Raspberry tea is recommended for making fruit infusions.

Additional information:
Store the product out of reach of children at room temperature. It is recommended to protect against the effects of moisture and light.
Contraindications:
Do not use in case of hypersensitivity to any component of the product.
The method of using the Raspberry Tea sachets:
Pour boiling water (200ml) over one sachet. Cover and brew for about 5-10 minutes.
Net weight: 50g (20 x 2.5g).
---