---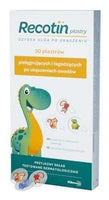 Sale
A great alternative to gels and ointments that soothe insect bites. Recotin patches after insect bites effectively relieve itching, and additionally provide a mechanical barrier that protects the bite site against scratching and further irritation.
Composition of Recotin patches after insect bites:
Acrylates Copolymer, Glycine Soja Oil, Vitis Vinifera Seed Oil, Linseed Acid, Propylene Glycol, Mentha Piperita Oil, Menthol, Tocopheryl Acetate, Zanthoxylum Bungeanum Fruit Extract, Oleyl Alcohol, Lavandula, Angustifolia Oil, Calendula Officinalis Extract, Limon.
Action Recotin patches after insect bites:
The product contains only natural active ingredients, including peppercorn extract and lavender oil, which soothe and relieve itching, and nourish the skin. Peppermint oil also has a refreshing, cooling and astringent effect, while calendula extract reduces redness and contributes to accelerating skin regeneration. Recotin plasters after insect bites also protect the bite site. The plaster creates a mechanical barrier that prevents scratching. In the package: 20 plasters with images of animals and 10 transparent plasters.
Application:
Recotin plasters after insect bites are intended to be used as a means of reducing discomfort after an insect bite and to protect the area from irritation caused by scratching.

Additional information:
Store the product out of reach of children, at room temperature. It is recommended to protect against moisture and light. Single use product. Avoid contact with the eyes - in the event of contact with the eyes, rinse them with plenty of water.
Contraindications:
Do not use in case of hypersensitivity to any component of the product.
How to use the plasters after insect bites Recotin:
For external use only. Clean the irritated area and dry it. Put the patch on the bite site. Leave the patch on the skin, but not longer than 8 hours.
---