---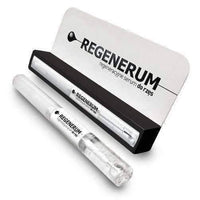 Sale
REGENERUM Regenerative serum mascara 11ml (4ml + 7 ml)
REGENERUM Regenerative serum for eyelashes stand out from other cosmetics this type of exceptional nourishing properties.

It stimulates regeneration and significantly strengthens weak so far eyelashes.
REGENERUM Regenerative serum mascara Ingredients:
Serum eyelashes: lipooligopeptydy extract the skylight
serum with a brush: matrykina with pro-vitamin B5, aloe vera, vitamin E
REGENERUM Regenerative serum mascara Action:
The set consists of two cosmetics: Serum with a brush and eyelash serum. Serum with a brush contains matrykiny with pro-vitamin B5, which is conducive to the determined action of longer eyelashes. In addition, a source of gel with aloe and vitamin E, which effectively hydrate and improve elasticity of the hair fibers forming rzęsty. These ingredients protect against falling hair. Serum Mascara running based lipooligopeptydów, which stimulate the growth of eyelashes bulbs. They help to increase their density and strength. Extract the skylight is known for its soothing properties and mitigating the delicate skin of the eyelids.
Contraindications:
- Hypersensitivity to the active component products
Indications:
Cosmetic is recommended to use in case of weak and falling out of eyelashes.
How to use REGENERUM Regenerative serum mascara:
Apply topically. Cosmetics should be applied every day after having eye makeup remover, preferably in the evening. Use until the observed effect of strengthening and thickening eyelashes. To maintain this condition is recommended to apply the serum once or twice for 7 days.Grooming start overlapping with a thin brush serum to the lash line at their base (as eyeliner). Later, using a brush to apply the serum on the entire length of the eyelashes (you can also be applied to the eyebrows).