---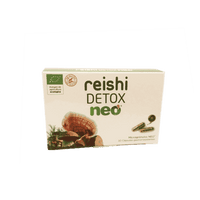 Sale
Reishi Detox Neo is a complex product for detoxification of the body.
Reishi Detox Neo Composition:
Ingredients: in 1 capsule in 2 capsules
Sylibum marianum extract 100 mg 200 mg
(Donkey thorn)
Ganoderma lucidum extract 65 mg 130 mg
(Reishi)
Cordyceps sinensis extract 65 mg 130 mg
(Cordyceps)
Lentinula edodes extract 40 mg 80 mg
(Shitake)
Polyporus umbellatus extract 40 mg 80 mg
(Polyporus)
Myrciaria dubia extract 24 mg 48 mg
(Kamu-Kamu)
Excipients: cellulose, anti-caking agent - talc
Reishi Detox Neo Purpose:
Helps cleanse the body
How to use Reishi Detox Neo: 1 to 2 capsules daily before meals
Do not use as a substitute for a varied and complete diet. Do not exceed the daily recommended dose!
Keep out of reach of children!
---