---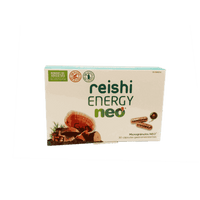 Sale
REISHI ENERGY NEO is a product for improving the tone and energizing the body. suitable for stress and chronic fatigue.
REISHI ENERGY NEO Ingredients: in 1 capsule in 2 capsules
Tumera diffusa extract 100 mg 200 mg
(Damiana)
Ganoderma lucidum extract 65 mg 130 mg
(Reishi)
Cordyceps sinensis extract 65 mg 130 mg
(Cordyceps)
Myrciaria dubia extract 24 mg 48 mg
(Kamu-Kamu)
Excipients: cellulose, anti-caking agent - talc
REISHI ENERGY NEO How to use: 1 to 2 capsules daily before meals
Do not use as a substitute for a varied and complete diet. Do not exceed the daily recommended dose!
Keep out of reach of children!