---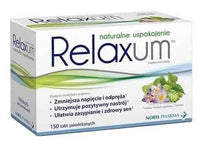 Sale
Relaxum x 150 tablets, L-tryptophan
A composition of plant extracts enriched with L-tryptophan. The Relaxum dietary supplement is recommended for use as a dietary supplement in periods of increased and prolonged stress and in the case of problems with falling asleep related to nervous tension.
Relaxum, L-tryptophan ingredients:
Bulking agent: microcrystalline cellulose, lemon balm herb extract, L-tryptophan, hop cone extract, coating ingredients (glazing agent: hydroxypropyl methylcellulose, dye: titanium dioxide, stabilizer: polyethylene glycol, bulking agent: cellulose, anti-caking agent: talc, emulsifier: talc) polyoxyethylene sorbitan monooleate), bulking agent: polyvinylpyrrolidone, anti-caking agent: magnesium salts of fatty acids, stabilizing agent: sodium carboxymethylcellulose, crocus (saffron flower) extract, anti-caking agent: silicon dioxide.
The content of ingredients in one tablet / three tablets: lemon balm extract - 50mg / 150mg, hop cone extract - 25mg / 75mg, crocus extract - 1.25mg / 3.75mg, L-tryptophan - 25mg / 75mg.
Relaxum, L-tryptophan
action:
The ingredients included in the Relaxum dietary supplement are helpful in the case of nervous tension, stress and anxiety and the accompanying difficulties in falling asleep. The preparation contains lemon balm herb extract, which helps to relax the body, helps to calm down, supports the maintenance of well-being and helps to fall asleep and helps to maintain a healthy sleep. Hop cone extract has soothing properties on the nervous system and helps maintain a good night's sleep. Crocus extract supports the maintenance of a good mood and emotional balance. L-tryptophan is an amino acid that is essential for the production of serotonin in the body.
Application:
Dietary supplement Relaxum intended for use as a supplement to the daily diet as a supplement to the daily diet of adults in states of long-term or periodic stress, as well as in the case of difficulties falling asleep caused by nervous tension and anxiety.

Additional information:
A dietary supplement cannot be used as a substitute, i.e. a replacement for a varied diet. Maintaining a balanced diet and a healthy lifestyle is very important. Store the product out of reach of children at room temperature. It is recommended to protect against the effects of moisture and light. Not recommended for use by people who drive vehicles or operate machines. Do not use simultaneously with other drugs with a sedative or hypnotic effect.
Contraindications:
Do not use in case of hypersensitivity to any component of the dietary supplement.
How to use 
Relaxum, L-tryptophan
tablets:
Recommended daily dose: 3 tablets. Take one tablet three times a day. Do not exceed recommended servings for consumption during the day.
---