---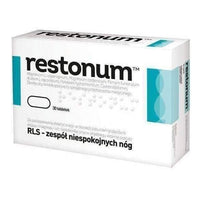 Sale
ESTONUM LS x 30 tablets treatment of restless legs syndrome
RESTONUM LS is a dietary food for special medical purposes, which replenishes the body levels of iron, magnesium, vitamin C and vitamin B6 and B12. Helps in the treatment of restless legs syndrome.RESTONUM LS
RESTONUM LS, treatment of restless legs syndrome Ingredients:

Magnesium L-asparagmum, Magnesium carbomcum, Ferrum fumaratum Acidum L-ascorb / cum Pyridoxini hydrochloride, Sorbitol (filler), magnesium carbonate, magnesium L-aspartate, magnesium cellulose (filler), L-ascorbic acid, iron fumarate, iron ( II), hydroxypropyl methylcellulose (glazing agent), magnesium salts of fatty acids (glazing agent), titanium dioxide (pigment), hydroxypropyl cellulose (glazing agent), cyianokobalamina, pyridoxine hydrochloride, beeswax and tarnauoa (glazing agents).
1 tablet RESTONUM LS contains:
L-aspartate, magnesium - 133.51 mg (equivalent to 10 mg of magnesium ions), Magnesium Carbonate - 205.10 mg (equivalent to 46.25 mg of magnesium ions), iron fumarate, iron - 46 mg (corresponding to 15 mg ions iron), vitamin C - 50 mg Vitamin B6 - 0,7 mg, vitamin B12 - 2.5 mcg
RESTONUM LS, treatment of restless legs syndrome Action:
The product belongs to the broad category of dietary foods for special medical purposes. It contains iron plays an important role in the production of erythrocytes and hemoglobin. It contributes to the transport of oxygen to all the cells of the body. Is conducive to maintaining normal energy metabolism. Magnesium supports the electrolyte balance of the body. Preferably it is affecting the functioning muscle tissue.Vitamin C is responsible for increasing the absorption of iron. Vitamin B6 and B12 contribute to maintaining consistent with the standard energy metabolism. The product supports the treatment of secondary forms of RLS.
Contraindications:
- allergic to ingredients
Indications:
It is recommended to use the product in addition to deficiencies of iron and magnesium in the body and during a secondary form of RLS (Restless Legs Syndrome).
How to use RESTONUM LS, treatment of restless legs syndrome:

Apply orally in adults at a dose of 1 tablet. x 2 / 24h. Taken on an empty stomach one hour before meals or two hours after.
---