---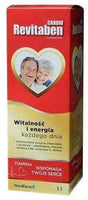 Sale
Liquid dietary supplement Revitaben Cardio contains a composition of natural extracts, iron and vitamin C and B vitamins. The preparation is recommended as a support for the proper functioning of the body, especially the proper work of the heart.
Revitaben Cardio ingredients:
Water, fructose, apple juice, bitter orange fruit extract (Citrus aurantium L.), L-ascorbic acid (vitamin C), hawthorn fruit extract (Crataegus laevigata), color (caramel), preservatives (sodium benzoate, sorbate) potassium), gentian root extract (Gentiana lutea L.), aroma, nicotinamide (niacin), DL-alpha tocopheryl acetate (vitamin E), iron (II) gluconate, riboflavin 5'-sodium phosphate (riboflavin) , pyridoxine hydrochloride (vitamin B6), thiamine hydrochloride (thiamine).

The content of the ingredients in the recommended daily portion (30ml):bitter orange fruit extract - 90mg, vitamin C - 87mg (109% RWS), hawthorn fruit extract - 52.5mg, gentian root extract - 30mg, niacin (niacin equivalent) - 18mg (113% RWS), vitamin E ( the equivalent of alpha-tocopherol) - 3.7mg (31% RWS), iron - 2.5mg (18% RWS), vitamin B6 - 2mg (143% RWS), riboflavin - 1.6mg (114% RWS), thiamine - 1 , 4mg (127% RWS).
RWS - reference intake value.
Operation Revitaben Cardio:
Bitter orange extract, bitterberry extract and Hawthorn fruit extract form the composition of the Revitaben Cardio dietary supplement. The composition is enriched with iron, vitamin C and a set of vitamins from group B. Thiamine supports the proper functioning of the heart, and iron, vitamin C, vitamin B6, niacin and riboflavin help reduce feelings of fatigue and fatigue.
Application:
Dietary supplement Revitaben Cardio intended for use in adults as a supplement to the daily diet with ingredients that support the proper functioning of the body, a preparation recommended especially to people who are tired and overworked.
Additional information: The
dietary supplement can not be used as a substitute for a varied diet and a healthy lifestyle. Keep the product out of reach of children at room temperature. Protect against light and moisture.
Contraindications:
Do not use in the case of hypersensitivity to any component of the dietary supplement.
How to use Revitaben Cardio:
The recommended daily dose for adults: 30ml (two tablespoons). Do not exceed recommended servings for consumption during the day.
Net volume: 1000ml.