---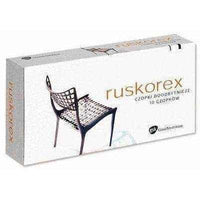 Sale
Ruskorex suppositories include ruscogenin acting topical anti-inflammatory, a decongestant, and sealing blood vessels. The suppositories RUSKOREX are recommended for use for pain and itching of the anal and the like symptoms.
RUSKOREX Composition:
1 g of ointment) ruscogenin 10 mg, tetracaine hydrochloride, 10 mg, excipients, macrogol 4000, macrogol 400, propylene glycol, cetyl alcohol, polysorbate 80, methyl parahydroxybenzoate, ethyl parahydroxybenzoate, propyl parahydroxybenzoate, aroma Eternance 0398440, purified water.

action RUSKOREX:
Ruskorex Suppositories contain ruscogenin are obtained from the rhizomes of butcher's broom (Ruscus aculeatus), which act locally anti-inflammatory, anti-oedematous and sealing blood vessels.Additionally, included in the composition of tetracaine hydrochloride locally anesthetized and relieve pain. The suppositories may be used in the course of inflammatory conditions of the rectal mucosa, and other symptoms which are accompanied by pain, pruritus in the region of the anus.
Application: Ruskorex suppositories are recommended for use in the symptoms of pain and itching of the anal region, inflammation of the mucous membrane of the rectum, inflammation thrombotic hemorrhoids, to relieve itching anus occurring for other reasons. In the adjuvant treatment of post-surgical anal fistulas around and hemorrhoids,
Usage: The preparation is intended for adults. Rectal suppository 1, 1-2 times per day. Suppositories used after defecation. A one-time treatment should not last longer than 2 weeks.