---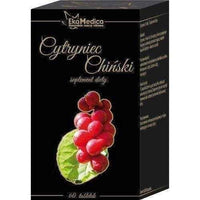 Sale
Schisandra Chinese EkaMedica is a high quality dietary supplement, whose task it is natural to strengthen the nervous system and digestive tract, and support eye and brain work. Cytyniec Chinese also helps maintain high immunity.
Ingredients:
Schisandra Chinese 4: 1 (Schisandra chinensis), magnesium stearate (anti-caking agent), a component of the capsule gelatin - sheath component. Action: Schisandra Chinese - also called the fruit of five flavors is an extremely valuable resource, whose fruits and seeds are the source of many substances nutrients for our body. Seafood Cytyńca Chinese are rich in sugars, organic acids, flavonoids, anthocyanins, tannins, essential oils as well as macro- and trace elements calcium, magnesium, phosphorus, potassium, sodium, aluminum, tin, iron, manganese, cobalt. While seeds Cytyńca include: schizandrine, schizandrol (substances toning and strengthening), vitamin E and oily substances. Citrate is particularly indicated for active people, a lot of work in front of a computer monitor - a beneficial effect on eyesight and working mentally. Application: Schisandra Chinese - a dietary supplement that strengthens the nervous system, helps the digestive system and metabolism, improves eyesight, antioxidant properties, strengthens the immune system a positive effect on the ability for mental and physical.

Usage:
Recommended intake: 1-2 capsules a day, drink plenty of water. Do not exceed the recommended daily servings. Do not use as a substitute (replacement) of a varied diet. Do not use in pregnant women and breastfeeding mothers.