---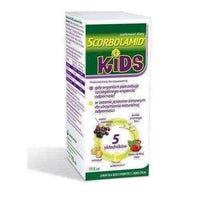 Sale
Immune system booster. SCORBOLAMID KIDS syrup is a food supplement for children over 3 years of age, which increases the resistance and reduces the risk of infection (especially during autumn and winter).

It is a rich source of vitamin C.
Ingredients:
sugar, water extract of rose hip fruit of elderberry and elder flowers (1: 1), acidity regulator citric acid, L-ascorbic acid (vitamin C), sulfate routine, preservatives: potassium sorbate and sodium benzoate water.
Ingredients per daily serving (10 ml) Vitamin C 12 mg (15% *) 7.65 Rutin mg, rosehips 2.37 g, fruit of elderberry 1.18 g, elder flower 1.18 g
Action:
The preparation belongs to the broad category of complex dietary supplements. Has rosehip, the fruit of elderberry and elder flower, which are a source of flavonoids, anthocyanins and vitamin C. In addition, the formulation enters the routine and the additional portion of ascorbic acid. In this manner effectively syrup (but naturally) increases the resistance of children and reduces the risk of respiratory infections.
Contraindications:
- allergic to ingredients
Indications:
The preparation should be used for children over 3 years to support the work of the immune system and strengthen immunity.
Usage:
For oral use. Children over three years of age administered syrup 10 ml × 2/24 (in case of need special support of resistance) or 10 x 1 ml / 24 (in the autumn and winter).
---