---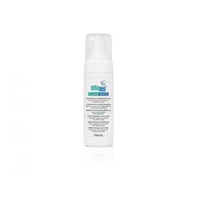 Sale
Intensive, antibacterial and gentle cleansing with pH 5.5, fights pimples and skin lesions.
SEBAMED ANTI ACNE CLEANSING FOAM Description:
Sebamed's research laboratories have created the Antibacterial Cleansing Foam with the patented active ingredient Montalin C40, which effectively fights the bacteria that causes acne and prevents the re-formation of acne and comedones. The antibacterial foam without alkalis gently cleanses the pores in depth, is well tolerated by the skin, removes excess skin oil and comedones without drying it out. With its pH of 5.5, equal to that of healthy skin, the antibacterial cleansing foam stabilizes its natural protective layer, protecting against inflammation and infections. Dermatologically tested.
A way of use SEBAMED ANTI ACNE CLEANSING FOAM:
Use the antibacterial cleansing foam in the morning and evening. Put a small amount of foam in your palm and apply it with light massage movements on the face, avoiding the area around the eyes and mouth. Wait 5 minutes for the foam to penetrate the skin and kill the bacteria before rinsing thoroughly with water. Then apply an anti acne deep cleansing tonic and an anti acne protective gel.
SEBAMED ANTI ACNE CLEANSING FOAM Composition:
water, cocamidopropylalbetainamide MEA chloride, cocotrimon methosulfate, sodium lactate, panthenol, perfume, phenoxyethanol.
---