---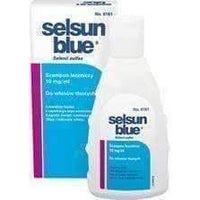 Sale
SELSUN BLUE SHAMPOO. Selsun Blue dandruff shampoo for oily hair is a cosmetic that thoroughly washed, and besides effectively reduces itching and excessive keratolizację epidermis. It works przeciwłojotokowo and antifungal properties.
Ingredients:
Aqua, Sodium Laureth Sulfate, Cocamidopropyl Betaine, Bentonite, Titanium Dioxide, Laureth-2, Magnesium Aluminum Silicate, Selenium Sulfide, Sodium Phosphate, Parfum, DMDM Hydantoin, Citric Acid, CI 42051, Sodium Chloride, Sodium Hydroxide.
Action:
Selsun Blue dandruff shampoo for oily hair is dermocosmetics, which combines the properties of the active substance responsible for combating dandruff and preventing its relapses and cleaning ingredients and nutrients to strengthen the hair. It consists of a 1% solution of selenium sulfide - component known for its antifungal and cytostatic activity. Reduces excessive flaking, redness and itching of the skin. The systematic use of the product Selsun Blue dandruff shampoo for oily hair contributes to significant relief of symptoms of seborrhea.
Contraindications:
- Hypersensitivity to the active components of the product
Indications:
It is recommended to use shampoo for dandruff and excessive seborrhea scalp.
How to use:
Apply externally. Spread a small amount of shampoo on wet hair, massaging gently. Once the foam, leave it for about 2-3 minutes, then rinse thoroughly. Repeat. For the first 14 days applied 2 times a week. Later, you can limit the use of up to 1 time for 2 weeks (or every 3-4 weeks).
---