---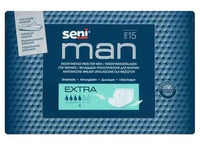 Sale
Perfect fit for male anatomy, protection against moisture, comfort and discretion! All this will be provided by Seni Man Extra urological cartridges, which are recommended for light incontinence. Cartridge dimensions: 7.5cm x 21.5cm x 28cm.
Operation of Seni Man Extra Urological cartridges:
Men with urinary incontinence may still be active. Seni Man Extra urological cartridges provide excellent protection against moisture. They provide extraordinary comfort and discretion, protect against leaking and unpleasant smell of urine. They are designed to quickly distribute moisture. The cartridges adapt to the shape of the male body, allow the skin to breathe, minimize the risk of allergic reactions. Absorption level: 4.
Application:
Seni Man Extra Urological cartridges intended for men for use in the case of mild incontinence. Suitable for active men.
Additional information:
Keep the product out of reach of children at room temperature. It is recommended to protect against moisture and light. The product has been dermatologically tested and does not contain latex. Cartridges are not suitable for fecal incontinence.
How to use Seni Man Extra urological cartridges:
The insert should be glued to the underwear, wide part directed towards the front of the underwear. The insert can be attached with a special adhesive strip. Do not use on loose underwear, e.g. boxers. Do not throw the used toilet insert into the toilet bin, throw it in the trash can.