---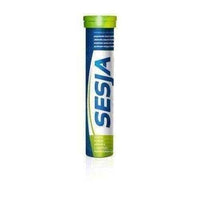 Sale
SESSION x 20 effervescent tablets, how to improve your memory
SESSION beneficial effect on the functioning of the nervous system, improves concentration and improves memory and thinking processes. Supports the work of the body in a period of increased activity mental or physical.
SESSION, how to improve your memory Ingredients:
Citric acid (acidity regulator), sodium bicarbonate (acidity regulator), sorbitol (sweetener), fructose, magnesium carbonate, caffeine, L-carnitine tartrate, aspartame (sweetener), flavors, saccharin sodium (sweetener) glycol, polyethylene 6000 (medium), L-ascorbic acid, brilliant blue FCF (dye) tartazyna (color), dl-alpha tocopherol acid, nicotinamide, calcium D-pantothenate, pyridoxine hydrochloride, riboflavin, thiamine mononitrate, folic acid, phosphatidyl D-biotin, cyjankobalamina.
2 tab. include: Phosphatidylserine 0.2 mg, magnesium 90 mg, 200 mg caffeine, 100 mg L-carnitine, 18 mg Vitamin C, Vitamin E equivalent of 6 mg of alpha-tocopherol, 5.4 mg Niacin equivalent niacin, pantothenic acid 1.8 mg , Vitamin B6 0.6 mg, 0.48 mg Riboflavin, Thiamine 0.42 mg, folic acid 400? g Vitamin B12 0.30? g, Biotin 45? g.
Action:
Dietary supplement thanks to the exceptional content of nutrients helps concentration and memory. Phosphatidylserine is derived from a naturally occurring amino acid - serine. It is the substance that builds cell membranes, brain and nerve tissue. Caffeine relieves the symptoms of fatigue and weariness. Increases performance psychophysical. L-carnitine is a natural amino acid that occurs in the body, above all in skeletal muscle and cardiac muscle and brain. Excels in periods of increased physical activity. Magnesium reduces fatigue and weariness. It supports the work of the nervous system and helps to regulate the electrolyte. A positive effect on energy metabolism and supports proper psychological functions. The product also provides the body with vitamins, which effectively nourish the body in times of increased mental and physical effort.
Contraindications:
- Hypersensitivity to the active components of the preparation
- pregnancy
- breast feeding
- feeding children under the age of 12
- the simultaneous use of other products containing caffeine
- phenylketonuria
SESSION, how to improve your memory Indications:
It is recommended to use the preparation of learners, working mentally, having problems concentrating.
How to use SESSION, how to improve your memory:
Apply orally. In adults and adolescents over 12 years of age use 1 tablet. x 1-2 / 24. Take dissolved in 250 ml of cold water.