---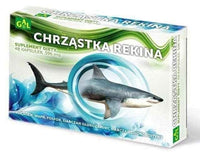 Sale
Shark cartilage is a dietary supplement supplementing the daily diet with collagen, chondroitin sulfate and glucosamine sulfate, as well as calcium and phosphorus. The product Shark cartilage is recommended for people who want to take care of their bones, teeth and joints.
Ingredients of shark cartilage:
Powdered shark cartilage, capsule shell: gelatin.
The content of ingredients in two capsules / six capsules: shark cartilage - 950mg, including: collagen - 333mg, calcium - 190mg (24% RWS), phosphorus - 95mg (14% RWS), chondroitin sulfate - 48mg / 2850mg, including: collagen - 999mg, calcium - 570mg (71% RWS), phosphorus - 285mg (41% RWS), glucosamine sulfate - 50mg / 150mg.
RWS - reference intake.
Action of shark cartilage:
Support for bones and joints is the result of supplementing the daily diet with ingredients contained in the dietary supplement Shark Cartilage. Substances derived from shark cartilage, calcium and phosphorus help maintain proper bone structure of teeth, and also support energy metabolism, calcium additionally supports the proper functioning of muscles, as well as maintaining normal processes of nerve impulse transmission. Glucosamine sulfate and chondroitin sulfate are ingredients that support the maintenance of flexible and healthy joints.
Application:
Dietary supplement Shark cartilage intended for use as a supplement to the daily diet with ingredients supporting the maintenance of healthy bones, teeth and joints. Recommended for older people, including postmenopausal women.

Additional information:
Dietary supplement can not be used as a substitute, i.e. a replacement for a varied diet. Maintaining a balanced diet and healthy lifestyle is important. The product should be stored out of reach of children at room temperature. It is recommended to protect against moisture and light.
Contraindications:
Do not use in case of hypersensitivity to any component of the dietary supplement.
How to use capsules Shark Cartilage:
Recommended daily dose: six capsules. Take two capsules three times a day. Do not exceed recommended servings for consumption during the day.
Net weight: (48 x 596mg).