---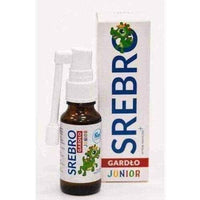 Sale
Kids sore throat. Support in the treatment of throat and mouth infections - medical device Srebrna Gardło Junior.

The preparation with an exotic taste of dragon fruit is recommended as a complementary therapy for proper treatment of bacterial and oral viral infections.
Composition:
Water, colloidal silver, sorbitol, pentylene glycol, phenoxyethanol, ethylhexylglycerol, pitaya flavor (dragon fruit), sodium hyaluronate, hydroxyethylcellulose. The product contains up to 10ppm of silver.
Action: The
base of the medical product Silver Silver Junior is a composition of silver and sodium hyaluronate. Thanks to them, the preparation brings the expected relief in relieving symptoms of throat and mouth infection. Throat spray is recommended for both bacterial and viral infections. The product has a pleasant taste of the dragon fruit, which resembles the aromas of kiwi, pear and cactus.
Application:
Medical device Silver Throat Junior indicated for use in the treatment of bacterial and viral throat and mouth infections.
Additional information:
Keep the product out of reach of children at room temperature. It should be protected against direct sunlight, high temperatures and heat sources as well as magnetic fields. Due to the sorbitol content, a medical consultation is recommended before using the product in people with intolerance to some sugars. Avoid contact with eyes. Do not swallow the preparation. The product should be discontinued and the physician should be consulted if any adverse reactions occur. After opening, use within 30 days.
Contraindications:
Do not use in case of hypersensitivity to any component of the medical device. Do not use in children under the age of 6, and also in case of women during pregnancy and breastfeeding. Do not use after a medical procedure and damaged oral mucosa.
Directions for use:
Apply topically, for external use. Before the first application, press the pump several times (4-6 times) to check the applicator operation. Shake well before use. Place the applicator in the mouth, do not push it too deeply, spray 3-4 doses at a time. Apply three times a day. Do not drink or eat anything for 20 minutes after application and do not brush your teeth. After using the applicator, it should be washed and dried. The application for children must be supervised by an adult. Do not use for more than 3-5 days in children and 7 days in adults. It is recommended to consult a doctor if after that time the symptoms have not disappeared or have worsened. Do not exceed recommended servings for consumption during the day.
---