---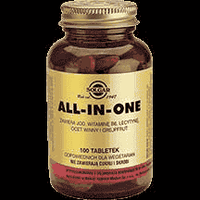 Sale
Dietary supplement All-In-One with a unique combination of diuretic substances, accelerating metabolism and fat burning helps control body weight and achieve a slim, slim.
Ingredients:
Active substances in 1 tablet: soy lecithin (non-oxidizing) - 200mg, grapefruit concentrate powder - 50mg, powdered vinegar with apples - 40mg, vitamin B6 (pyridoxine hydrochloride) - 8,5mg, Iodine (from kelp) - 35mcg.
Auxiliary substances of natural origin:
microcrystalline cellulose, dicalcium phosphate (fillers); silicon dioxide, vegetable stearic acid, vegetable magnesium stearate (anti-caking); rubber plant.

Applications:Action:
Product All-In-One is designed for people struggling with shapely body.The use of best combined with proper diet (approx. 1500 kcal), and moderate physical activity. Dietary supplement helps control body weight thanks to the unique composition of active substances - iodine, vitamin B6, lecithin, apple cider vinegar and grapefruit. Operation of unoxidized soybean lecithin is based on the stimulation of fat burning in the liver. The addition of powdered grapefruit reduces the absorption of sugars from food and as a source of pectin provides a long-lasting feeling of satiety. In addition, grapefruit stimulates detoxification and metabolism. Powdered apple cider vinegar is beneficial to digestion and supports the metabolism. Vitamin B6 is a diuretic, which is further enhanced by the burning of carbohydrates. Iodine, like vitamin B6, facilitates the removal of excess water from the body, and supports the thyroid.
Dietary supplement All-In-One recommended to control your weight.
Allergy Information:
Dietary supplement does not contain sugar, starch, corn, yeast, wheat, gluten, dairy products. The product gluten-free, free from artificial preservatives, flavoring and coloring. The product adapted to the requirements of a vegetarian diet.
Usage:
Take orally 1-2 tablets three times a day.