---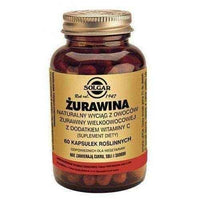 Sale
Cranberry pills. Natural dietary supplement cranberries due to the high content of phytochemicals provide effective support for the body, especially prone to urinary tract infections.
Composition:
Active ingredients: cranberry (powdered fruit extract) - 400mg of vitamin C (L-ascorbic acid) - 60 mg. Excipients natural:vegetable magnesium stearate, silicon dioxide (anti-caking agents);hydroxypropyl methyl cellulose (vegetable capsule).
Action:
Dietary supplement company Solgar is a rich source of cranberry (Vaccinium macrocarpum), further enriched with natural vitamin C. constituting a base preparation cranberry species is characterized by the highest content of phytochemicals in relation to other varieties of this plant. The presence of L-ascorbic acid condition for maintaining a constant level of activity of cranberry in the body and supports the immune system. 1 capsule supplement is equivalent to 1 cup of juice from fresh cranberries. The recommended dose will effectively assist the body, especially the urinary tract. The unique production technology preparation makes it adapted to the requirements of kosher and vegetarian diets.
Dietary supplement recommended especially supportive in maintaining the proper condition of the urinary tract.
Allergy Information:
Dietary supplement does not contain sugar, salt, starch, yeast, wheat, soy, gluten, dairy ingredients.The product free of artificial preservatives, fragrances and dyes. Product vegetarian and kosher.
How to use:
Take 1-2 capsules a day orally.