---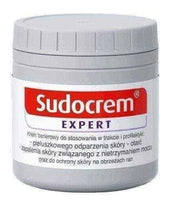 Sale
Medical device Sudocrem Expert cream is a barrier cream for applying to skin problems. The preparation can be successfully used in adults and children. It is recommended mainly for diaper rash, pressure sores and abrasions.
Composition of Sudocrem Expert cream:
Zinc oxide, purified water, liquid paraffin, paraffin waxes, lanolin, sorbitan sesquioleate, microcrystalline wax, benzyl benzoate, synthetic beeswax, sodium benzoate, benzyl alcohol, linalyl acetate, propylene glycol, benzyl cinnamate, lavender fragrance, butylated hydroxylate .
Action Sudocrem Expert cream:
Barrier cream with drying, antibacterial and anti-inflammatory properties. In addition, the Sudocrem Expert medical device effectively cares, moisturizes and soothes. Product dedicated to children and adults with skin problems. The cream works well in skin care, which is exposed to the occurrence of abrasions, burns and pressure sores. The preparation is recommended for the treatment and prevention of diaper rash in children, as well as dermatitis, which often occurs in people struggling with urinary incontinence.
Application:
Medical device Sudocrem Expert cream intended for use not only in the treatment but also in the prevention of diaper rash, skin inflammation associated with urinary incontinence, skin abrasions. Also to be used as skin protection at the edges of wounds.

Additional information: The product should be stored out of reach of children at room temperature. It is recommended to protect against moisture and light.
Contraindications:
Do not use in case of hypersensitivity to any component of the product.
How to use Sudocrem Expert cream:
For external use only. The cream should be applied to previously cleaned skin. Apply a thin layer of the product once. Apply as needed. Wash your hands before using the product and afterwards. Do not put the leftover product back into the package.