---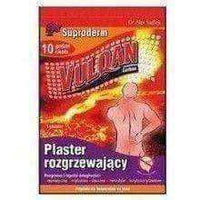 Sale
Pain relief patches. SUPRODERM VULQAN CARBON Slices warming is a product which, thanks to the unique properties of relieving muscle pain.

Locally stimulates the blood circulation and brings relaxation.
Composition:
active charcoal, water, iron powder, vermiculite.
Action:
the product is intended for topical use. It characterized by a warming operation. After sticking to clothes in 10 hours penetrates deep into the skin and soothes the pain and relaxation. Muscle tension and discharges locally stimulates the blood circulation. Suited for muscle pain, back, shoulders and neck. The product gradually warmed to a temperature of about 542 C.
Contraindications:
- allergic to the ingredients
- pregnancy
- younger than 12 years
- the application to damage the skin
- applying a night
- diabetes
- cardiovascular disorders
- eczema,
- psoriasis
- arthritis
- the use of the bath
- in patients who can not remove the patch with an increase in the temperature to the level of the body of the responsible
Indications:
Use the product in case of muscle pain, back, shoulders and neck.
Dosage:
Apply topically, on clothing. You can leave at 10am.
---