---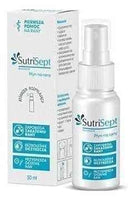 Sale
Sutrisept wound fluid 50ml
Multi-purpose wound fluid Sutrisept cleans and moisturizes. Above all, however, it protects the wound from infection, the polyhexanide contained in it has antibacterial, antiviral and antifungal properties.
Sutrisept liquid composition for wounds:
Polyaminopropyl biguanide (polyhexanide) 0.1% and excipients.
Sutrisept fluid treatment for wounds:
Polyhexanide is an active substance that has been used in Sutrisept wound fluid. It has a broad spectrum antimicrobial effect (bacteria, including MRSA and VRE bacteria, viruses and fungi). Importantly, the antibacterial effect is maintained at high pH, ​​further enhanced with prolonged contact with the skin. The product not only effectively cleanses the wound, but also isolates its surface from the external environment. In addition, it helps in the healing process by creating optimal conditions, stimulates cell proliferation, removes biofilm, improves microcirculation. The preparation is recommended for use in cleansing, irrigating and moisturizing wounds and first and second degree burns. It is helpful in removing dressings that have adhered to the wound. Sutrisept wound fluid can be used for long-term use in chronic wounds, it is not toxic to tissues. It is colorless, almost odorless and does not dirty.
Application:
Medical device Sutrisept Wound fluid intended for use as a cleansing, moisturizing and preventing infection of traumatic, postoperative, chronic and infected wounds (e.g. abrasions, scratches, cuts, wounds after cesarean section, 1st and 2nd degree burns), as well as around stoma, fistulas, abscess, places of introduction of urological catheters. The preparation can be used from 3 years of age.
Additional information:
Keep the product out of reach of children, at room temperature, away from sunlight. The preparation contains preservatives, it can be used for 8 weeks after opening. Caution should be exercised when using the preparation during pregnancy and lactation. The preparation may very rarely cause allergic reactions (e.g. itching or rash) or transient burning sensation. Do not swallow or drink.
Contraindications:
Do not use in case of hypersensitivity to any component of the preparation. Do not use for hyaline cartilage and aseptic joint surgery in the middle and inner ear (in case of contact with aseptic cartilage, rinse immediately with Ringer's solution or physiological saline). Do not use within the central nervous system and meninges. Do not apply to eyes. Do not use for injection or intravenous infusion. Do not use with anionic surfactants, creams, soaps, enzymes and oils (before applying Sutrisept fluid, remove them from the wound surface). Do not use for rinsing and washing the peritoneum. Not recommended for newborns and infants.
How to use Sutrisept wound fluid:
For external use only. The liquid is ready-to-use, it should not be diluted. The fluid can be heated to body temperature. Suitable for long-term use. Wound cleansing: for deep wounds with extensive tissue necrosis, it is recommended to wash with a wet dressing for about 10-15 minutes, while for optimal wound cleansing leave the compress completely wet for at least 15 minutes. Removal of dried bandages and dressings: the dried bandage should be thoroughly wet, after 1-5 minutes carefully removed.
---