---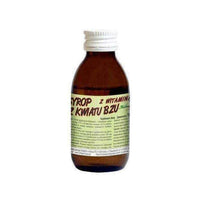 Sale
Syrup ELDER FLOWER with vitamin C contains natural ingredients that enhance the treatment of influenza or a cold.

A reinforcing effect on the body and support the immune system function.
Ingredients:
sugar, water, extract (1: 5) with elder flower - 10% of the concentrate, raspberry flavor, raspberry flavor, vitamin C - 0.05%. The content of elder flower, based on the recommended daily intake portion of the product is 440mg. The content of vitamin C, based on the recommended daily consumption of the product portion is 13mg, representing 16% of the recommended daily intake. It contains sugar. Pasteurized product.
Action:
syrup elder flower with vitamin C to a food product characterized by extremely beneficial natural composition. It contains an extract of elder flower, which is responsible for substantial relief from the symptoms of respiratory infections (colds, flu) manifested, inter alia, cough or hoarseness. It works immunostimulating and clearly supports the body's natural immunity. This product is also an excellent source of vitamin C, which effectively stimulates the body's natural defenses. Elderberry flower syrup with vitamin C belongs to the category of dietary supplements.
Contraindications:
- Hypersensitivity to product components
Indications:
The syrup is recommended to take in order to supplement the daily diet with ingredients that contribute to the strengthening immunity and relieve symptoms of colds or flu.
Usage:
For oral use. Syrup taken after dilution with a small amount of water or without dilution. Apply in a dose of 2 teaspoons of the syrup / 24h.