---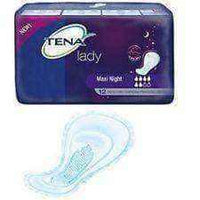 Sale
TENA LADY MAXI NIGHT. The sanitary is a thing prudent woman is always with you. To avoid soiling of underwear night, a night to choose a variant of Tena Lady Maxi Night correspondingly lengthened and widened, which absorbs moisture better.
Operation and use:
Special, highly absorbent pads Tena Lady Maxi Night ideally suited for urinary incontinence and are suitable for use at night because they have extended and widened rear part. Additionally, the napkin are profiled to have an anatomic shape and fits snugly to prevent leakage. In addition, the product incorporates Fresh Odor Control System, or special microbeads that absorb odor. Sanitary pads are made of soft material for Silky Soft Skin Surface, similar to the fabric, which provides a high comfort of use. In addition, the outer layer is breathable, making it easier to keep your skin in good condition. Sanitary Tena Lady Maxi Night rapidly absorb moisture and do not allow to come into contact with the skin, providing a feeling of dryness. The sanitary is equipped with a protective, flexible frills, which also protect against leakage. Each napkin is packaged separately, which raises hygiene product. This solution makes the pad can be always with you, wrapped discreetly in your purse. Absorbency level: 6/8.
Additional information:
The product dermatologically tested. Keep out of reach of children, at room temperature.
Method of use:
Use as intended.
---