---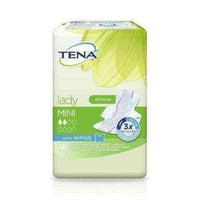 Sale
TENA Lady Mini . You are looking for discrete protection with your embarrassing problem of incontinence? Comfort will provide you with Panty Tena Lady Mini Wings. The inserts are characterized by optimal absorption, which provide all-day comfort.
Operation and use:
Although Panty Tena Lady Mini Wings resemble the shape of a pad with wings, have a much better absorption, so that they can safely be used for light incontinence, and in women during the postpartum period. Fast Dry batch Core prevents leakage through the insulation of moisture. What is very important even when the pressure pad remains dry. Microbeads forming system Fresh Odor Control stop while the odor. Increases comfort and discretion special material from which the insert. Silky Soft Surface fabric is soft and pleasant to the skin. Absorbency level: 2.
Additional information:
Keep out of reach of children, at room temperature.
Method of use:
Use as intended. Each is packaged separately, and it allows you to wear one piece together just in case.