---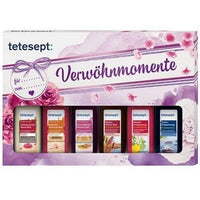 Sale
Tetesept gift set pampering moments
• Warmed up and relieved *, for noticeable relaxation
• Recipe inspired by natural moor
• With warmth ingredient
• For immediate, noticeable well-being *
• Soothing effect that lasts for hours *
• Confirmed by application observation *
• 90% confirm more well-being.
tetesept Back Warmth Bath is a soothing, cosmetic bath additive with a lasting * warming effect for physical relaxation in a warm bath.
TETESEPT bath gift set Inspired by natural
moor : Feel the special tetesept combination that lets you experience the effects like in a mud bath. With mineral salts like those from the natural moor and heat ingredient methyl nicotinate.
The bathroom is completely sludge-free and has a gentle care scent.
TETESEPT bath gift set Beneficial effect:
in connection with the warm bath water, a feeling of intensive warming of the whole body arises.
Confirmed by application observation *:
93% feel a relaxing effect
81% feel a release of tension
90% confirm noticeable relaxation
Skin-friendly care:
Thanks to the formula with lipid replenishing substances, your skin feels clean and pleasantly cared for.
• Skin compatibility, dermatologically confirmed
• Free of silicone and mineral oils
• Made in Germany
• Recyclable glass bottle & carton
• Free of microplastics
• Vegan
TETESEPT bath gift set wellbeing for hours:
while bathing, you can enjoy a relaxed, warm body feeling that, thanks to the warmth ingredient, lasts for hours after bathing *.
* Confirmed by application observation by an independent test institute: 29 test persons, 3 × weekly use, subjective assessment via questionnaire, immediately after the bath and hours afterwards. Approval rate in% immediately after the third application.
---