---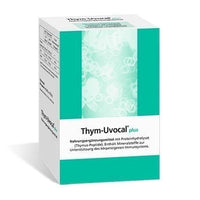 Sale
How to cope with stressful situations Thym-Uvocal ® plus hard capsules
To strengthen the body's defenses *

What role do thymus peptides play in our immune system?
An optimally functioning immune system consists of an interaction between certain cells, signal substances and tissues and, along with the nervous system, is one of the most complex systems in our body. But it is not only in the autumn and winter months that our body's defenses are particularly demanding due to the cold, wet weather and the dry heating air. Even particularly challenging times with unforeseen health risks put our immune system to a tough test.

A small and inconspicuous organ that sits behind our sternum has a particularly important function here - the thymus or the thymus gland. While doctors puzzled for a long time what function it had and the ancient Greeks considered it the "seat of the soul", the thymus was deciphered in the early 1960s as an important immune organ in which the maturation and formation of defense cells takes place. In the meantime, the special importance of the thymus gland or its peptides for a successful immune defense is undisputed.

Thym-Uvocal ® plus with thymus peptides, zinc and selenium

The dietary supplement Thym-Uvocal ®plus contains a protein hydrolyzate from enzymatically obtained thymus peptides, the essential trace elements zinc and selenium. Just 1-3 hard capsules a day strengthen the body's own immune system, support physiological metabolic processes and promote antioxidant and cell-protecting processes in our body - especially in stressful situations or when there is a need for nutrients due to age.

THYM UVOCAL plus How to cope with stressful situations Your advantages at a glance:

• Dietary supplement with thymus peptides made from bovine thymus, zinc and selenium
• Strengthens the immune system
• Supports antioxidant and cell-protecting processes
• Recommended intake: one hard capsule 1 to 3 times a day
• Free from lactose and gluten

* Zinc and selenium contribute to the normal function of the immune system and to protect cells from oxidative stress.
Food supplements THYM UVOCAL plus, How to cope with stressful situations. The recommended daily intake must not be exceeded.

Dietary supplements How to cope with stressful situations THYM UVOCAL plus are no substitute for a balanced, varied diet and a healthy lifestyle.

Keep away from children!
---