---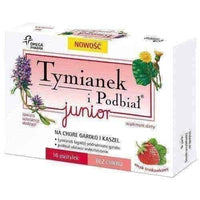 Sale
Lozenges Thyme and Coltsfoot Junior with a delicious, strawberry flavor is a way to alleviate the cough and relief in the case of a patient's throat.

The formulation comprises vitamin C and two valuable and coltsfoot extracts of thyme.
Ingredients:
Sweetener: izomatol, dense extract, thyme acidity regulator: Citric acid, concentrated strawberry powder, sodium L-ascorbate (vitamin C), dense extract of coltsfoot, strawberry flavor, sweetener sucralose, a dye: carmine, water .
The content of the two components in the pellets: thyme extract - 140 mg, coltsfoot extract - 20 mg vitamin C - 30 mg (37.5% of the recommended daily intake).
Action:
Delicious lozenges containing sugar recommended by the patient's throat and cough in the case. Dietary supplement Thyme and Coltsfoot Junior has been formulated with ingredients of plant origin, as well as vitamin C. The page beneficial extracts of coltsfoot and thyme. It includes alleviation effects of irritated throat mucosa, respiratory support and the beneficial effect on the strengthening of immunity.

Application:
Dietary supplement Thyme and Coltsfoot Junior intended to be used in the case of a patient's throat and cough. This product is intended for children over 4 years old.
Additional information:
Food supplements should not be used as a substitute for a varied diet and a healthy lifestyle. Should be protected from moisture. Keep out of reach of children, at room temperature. The pellets contain sweeteners.
Contraindications
not be used in case of hypersensitivity to any component of the supplement.
Usage:
The recommended daily dose of 2-3 tablets. It is recommended to use one lozenge every 4-6 hours. Do not exceed recommended servings for consumption during the day.