---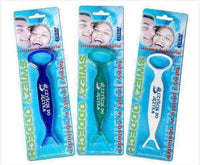 Sale
Tongue cleaner is practical gadget that will be useful to anyone who cares for the oral cavity.

The product is perfect as a tongue cleaner, which is often overlooked when brushing your teeth.
Action: The tongue requires careful care, although it is usually skipped when brushing teeth. To make it easier to remove bacterial deposits and food debris from the tongue, El-Comp has developed a tongue cleaner in a CA blister. Thanks to its properties, the cleaner prolongs breath freshness. The product can also be used as a dental floss holder, which affects the comprehensive oral hygiene.
Application: A tongue cleaner in a CA blister designed to maintain oral hygiene, both for cleaning the tongue and as an auxiliary as a dental floss holder.
Usage:
Use as intended. As a tongue cleaner: open your mouth wide, stick out your tongue. Move the cleaner 3-4 times along the tongue towards the bottom. After cleaning the tongue, wash the product in water and store it. As a dental floss holder: prepare 25 cm of thread, wrap it on the handle, place between the teeth and move it smoothly along the curves of the tooth.
---