---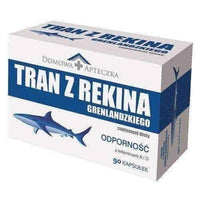 Sale
TRAN GREEN SHARK is a nutritional supplement that, thanks to the content of shark liver oil, helps to strengthen immunity and improve immune system function.
Composition:
2 capsules. Comprise: Shark liver oil Greenland 500 mg alkylglycerols: 101 mg Squalane: 10 mg, Vitamin A mcg 198 (25%) 2.5 mcg Vitamin D (50%), Vitamin E 0.6 mg (5%).
% of recommended daily intake.
Total composition: beef gelatine, shark liver oil, glycerol, purified water, DL-alpha tocopheryl acetate, retinyl palmitate, cholecalciferol.
Action:
Greenland Shark TRAN is a dietary supplement with a natural composition. Shark liver oil is a rich source of beneficial substances. Squalene is a substance that builds human skin's lipid shell and shark's liver fat. It is a precursor of steroid hormones and vitamin D. Alkylglycerols (AKG) have a positive effect on the structure of mucous membranes. Providing them with a daily diet contributes to an increase in blood levels of granulocytes and immunoglobulins (IgG and IgM) in the plasma. Vitamin A and D have a positive effect on the immune system. Vitamin A improves mucus condition. Vitamin E exhibits strong antioxidant properties. Greenland shark's TRAN is a capsule designed for oral use.
Contraindications:
- Hypersensitivity to the components of the product
Indications:
It is recommended to use this product to supplement the level of valuable components contained in shark liver oil in Greenland.
Directions for use:
Orally. Children over 3 years of age 1-3 capsules / 24h before or after eating. In adults use 2-6 caps / 24h.