---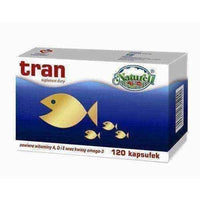 Sale
Tran omega 3,

cod liver oil, essential omega 3 fatty acids

. Naturell's signature cod liver oil contains essential nutrients such as essential Omega-3 fatty acids and vitamins A, D and E. The diet supplement works well in conditions of reduced immunity.
Ingredients:
Cod liver oil, cod oil and other marine fish (including Omega-3 acids: DHA and eicosapentaenoic acid, EPA); Vitamin A (retinyl palmitate); vitamin D (cholecalciferol) allergen information: product contains fish oil.
Ingredients in 1 capsule: cod liver oil, cod and other marine fish - 250mg, including unsaturated Omega-3 fatty acids - 50mg (20% ZDS): docosahexaenoic acid (DHA) - 25mg, eicosapentaenoic acid - 25mg; Vitamin E (soybean tocopherol concentrate) - 6mg alpha-tocopherol equivalent (50% ZDS), vitamin A (retinyl palmitate) - 200mg retinol equivalent (25% ZDS), vitamin D (cholecalciferol) - 2.5mcg ).
ZDS - recommended daily intake.
Action:
Tran's dietary supplement is a product containing three of four fat-soluble vitamins and Omega-3 fatty acids. Vitamins A and D support the proper functioning of the immune system. In addition, vitamin D promotes healthy bones and teeth, and contributes to proper bone growth and development. The vitamin supplement for youth - tocopherol - supports cells in the protection against oxidative stress. Omega-3 fatty acids - DHA and EPA - taken in appropriate amounts, favor the work of the brain and the heart muscle.
Use:
Tran diet supplement for use in conditions of increased demand and growth, periods of weakness of immunity or organism, states of increased physical and mental activity, and to supplement diet low in Omega and vitamin A, D, E.
Additional Information:
Dietary supplement can not be used as a substitute for a varied diet and healthy lifestyle. Keep product out of the reach of children at room temperature. Pregnant women and lactating women should consult the decision to use a dietary supplement with a doctor.
Contraindications:
Do not use in case of hypersensitivity to any of the components of the product. Do not use with other vitamin A preparations.

Recommended : Recommended daily allowance: Adults: 2 capsules, children over 3 years - 1 capsule. Use during or immediately after meal. The capsule can be swallowed whole or squeezed into a teaspoon and served with the meal. Do not exceed recommended servings for consumption during the day.
Net weight: 38g.