---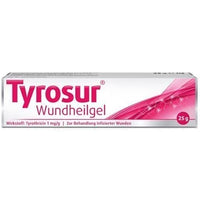 Sale
Tyrosur 
®
 wound healing gel
powder for use on the skin
Active ingredient: Tyrothricin
Areas of application:
For the (soothing) treatment of small, superficial, less exuding wounds with bacterial superinfection with tyrothricin-sensitive pathogens such as cracks, scratches and abrasions.
Warning: Contains propylene glycol!
For wound healing gel information on risks and side effects, read the package insert and ask your doctor or pharmacist.
Engelhard Arzneimittel GmbH & Co.KG.
61138 Niederdorfelden
---