---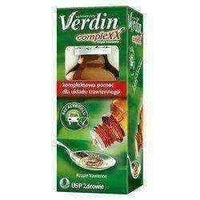 Sale
Verdin Complexx digestive gels contain artichoke leaf extract and menthol.

This diet supplement is a formulation that alleviates unpleasant digestive ailments and provides a comprehensive support.
Ingredients:
Water, artichoke leaf extract (Cynara scolymus), acidity regulator: citric acid; emulsifier: polyoxyethylene sorbitol monolaurate; mint flavor, menthol; Preservatives: sodium benzoate, potassium sorbate.
Calculated on recommended daily portion for consumption - 8ml. The product contains: artichoke leaf extract - 3.6 g.
Action: The
unique composition of concentrated herbal extracts ensures the effectiveness of Verdin Complexx digestive drops in relieving ailments such as abdominal distension or stomach upset. Artichoke leaves extract contains the active substance - cinnarin. The extract has hepatoprotective and antioxidant properties. It promotes lowering of blood cholesterol. Menthol, or essential oil contained in peppermint, has a diastolic effect. In Verdin Complexx droplets do not have alcohol, so they can be safely used without worrying about their psychomotor efficiency.
Use:
Verdin Complexx dietary supplement for digestive system; relieve symptoms such as: fullness and severity after eating, abdominal pressure, tendency to flatulence, abdominal discomfort, rebound. Preparation for adults.
Additional Information: The
supplement can not be used as a substitute for a varied diet and healthy lifestyle. Store at room temperature, out of the reach of children.
Contraindications:
Do not use in case of hypersensitivity to any of the droplet components. Do not use in pregnant or lactating women.
How to use:
Recommended daily allowance: adults - maximum 160 drops. Accept 1-4 times a day after 20-40 drops, add them to a teaspoon of sugar and eat. Drink. You can also dissolve the drops in a small amount of water and drink. Apply immediately before eating or after eating. Do not exceed recommended daily serving.