---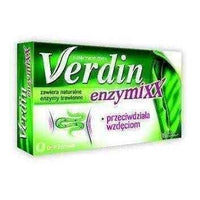 Sale
Verdin Enzymixx is a food supplement supporting digestion and liver function. It relieves the symptoms of bloating and prevent their recurrence.
Composition:
2 tablets contain: dry extract of artichoke leaves 800 mg bromelain 80 mg, 46 mg lactase
Action:
The preparation is characterized by complex natural composition. It works on the basis of artichoke leaf extract, which contains many valuable components - mainly cynarin and inulin. These substances support the work of the gall bladder and liver. Responsible for the renewal and regeneration of liver cells or hepatocytes. They stimulate metabolism and digestion of lipids. Reduces appetite (thereby reducing the fat tissue). In addition, the preparation contains bromelain and lactase - digestive enzymes. Bromelain is a substance extracted from pineapple and supports the unfolding of proteins. Lactase helps to digest lactose (milk and milk products) to gluktozy and galactose.
Contraindications:
- Hypersensitivity to the active components of the preparation
Indications:
It is recommended to use the product in order to support the functioning of the liver and the digestive process. Indicated as a means of alleviating bloating and prevent their occurrence.
Dosage:
For oral use. For adults, the recommended dose is of 2 tabl./24h during the meal or immediately after eating.