---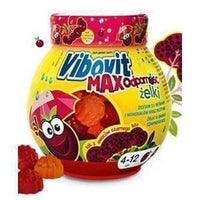 Sale
Vibovit Max resistance in the form of jellies full of vitamins is an excellent choice for children from 4 years of age. This will help maintain healthy mental function and support the immune system.Also take care of the eyes and strong bones.
Composition:
1 gummy contains: Vitamin C 50 mg (62.5% *), niacin 8 mg (50% *), 6 mg Vitamin E (50% *), vitamin B6 0.6 mg (43% *), vitamin A 450 mcg (56% *) 200 mcg of folic acid (100% *), biotin 12 mcg (24% *), 5 mcg vitamin D3 (100% *), vitamin B12 1.2 mcg (48% *) zinc 5 mg (50% *), selenium 30 mcg (54.5% *), 5 mg of rutin, glucose syrup, sugar, water, gelatin, concentrates: orange juice 1.7%, juice, elderberry 0.4 %, acidity regulator: citric acid, aroma elder flower, glazing agent: carnauba wax.
* recommended daily intake.
Action:
The composition of jellies Vibovit Max resistance are maximum doses of substances that have positive effects on the body. Vitamin C and zinc stimulate the proper functioning of the immune system.Rutin is a flavonoid that has anti-inflammatory, antioxidant and sealing vessels. Niacin supports the nervous system, helping to maintain the correct memory and concentration. The product supports the natural development of the body, maintain proper bone structure and proper vision.
Application:
Vibovit Max immunity recommended to improve immunity in children 4 years of age.
Additional information:
The product does not contain preservatives and lactose.
Usage:
Serve your child a gummy day.
---