---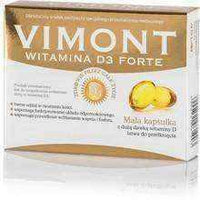 Sale
Vitamin d3 supplements. you wish to support immunity, muscle function, and above all want to take care to keep your bones in good shape, accept daily capsule formulation Vimont Vitamin D3 Forte 1000j.m.
Ingredients:
Rapeseed oil (filler), vitamin D3 (cholecalciferol), the shell of the capsule: gelatin, humectant - glycerol, purified water.
The nutritional value per capsule: energy value - 1.59 kcal / 6,6kJ protein - 66,1mg, carbohydrates - 0g, fat - 147,6mg, vitamin D3 - 25mcg (1000j.m and 500% of the recommended daily intake).
Action:
The small capsule, and hides a large portion of vitamin D3. Dietary food for special medical purposes Vimont Vitamin D3 Forte 1000j.m. It helps realize the daily body's need for this valuable substance. Adequate amount of support means for the proper functioning of the body. Vitamin D3 is involved in the process for formation of bone, it promotes absorption of calcium and phosphorus, as well as contributing to the proper functioning of the immune system. It is also involved in the process of cell division and helps the muscles.
Application:
Dietary food for special medical purposes Vimont Vitamin D3 Forte 1000j.m intended for use in the dietary deficiency of vitamin D3.
Additional information:
Keep out of reach of children, at room temperature. Protect from moisture and light. Do not use as a substitute for a balanced diet and a healthy lifestyle.
Contraindications
not be used in case of hypersensitivity to any component of the formulation.
Usage:
It is recommended to take one capsule a day. It should be taken with a sufficient amount of water. Do not exceed recommended servings for consumption during the day.