---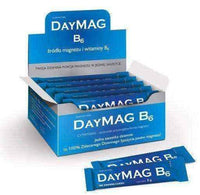 Sale
DAYMAG B6 x 20 sachets
DAYMAG B6 is a preparation that provides the body with magnesium and vitamin B6. DAYMAG B6 Supports the work of the nervous system and muscle tissue. DAYMAG B6 Helps to maintain electrolyte balance.
DAYMAG B6, vitamin B6 and magnesium Composition:

1 sach. Contains: Magnesium citrate 2427 mg including magnesium ions 375 mg, Vitamin B6 (pyridoxine hydrochloride) 1.4 mg, xylitol (sweetener), citric acid (acidity regulator), orange flavor (aroma), corn dextrins , sucralose (sweetener)
Action DAYMAG B6: The dietary supplement contains a very well absorbed form of magnesium (citrate). Thanks to this, it better supports muscle tissue (protecting against painful cramps) and is involved in maintaining healthy teeth and bones better than other preparations of this type. In addition, it plays a very important role in the regulation of electrolyte management. It is important in the course of metabolic transformations and proper protein synthesis. In combination with vitamin B6, it supports the proper functioning of the nervous system. Responsible for maintaining psychological functions and alleviating the symptoms of fatigue and fatigue.
Contraindications:
- hypersensitivity to product constituents
Indications DAYMAG B6, vitamin B6 and magnesium:

Use the preparation as a supplement for vitamin B6 and magnesium. Recommended for states of fatigue, excessive stress and nervous tension, increased physical activity and problems with remembering and concentration.
DAYMAG B6 How to use:

Use orally. It is recommended to use 1 sachet x 1 / 24h. Take after dissolving the sachet in 100-150 ml of water.
---