---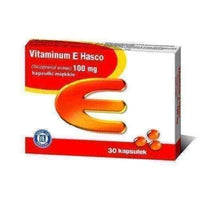 Sale
VITAMIN E CAPSULES. The medicinal product Vitamin E 100mg brand Hasco-drug is a formulation that will help fill vitamin E in the body. One of its most important properties is a strong antioxidant.
Composition:
Each capsule contains: 100 mg int-rac-alpha-Tocopherylis acetas (all-rac-alpha-tocopheryl acetate) and the excipients: purified oil, peanut oil, cochineal red (E 124).
Action:
effect of vitamin E antioxidant helps protect cells from free radical damage, which is particularly important in the proper operation of the muscular and nervous system. Vitamin E also protects the polyunsaturated fatty acids in the cells as well as preventing hemolysis of red blood cells. It is the component that acts as a cofactor in some enzymatic systems, and also participates in the metabolism of lipids.
Application:
The medicinal product indicated for the treatment and prevention of deficiency of vitamin E. Suitable for adolescents and adults.
Additional information:
Keep out of reach of children, at room temperature.
Contraindications
not be used in case of hypersensitivity to any component of the drug, particularly in the case of allergy to peanuts. Do not use in case of deficiency of vitamin K.
Dosage: The
recommended to take 1-2 capsules per day. Do not exceed recommended servings for consumption during the day.
---