---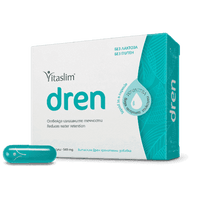 Sale
Vitaslim DREN provides the most modern and effective approach to weight loss. It works by eliminating excess substances stored in the body.
VITASLIM DREN Detoxifying and draining effect:
Thanks to carefully selected natural ingredients that are in a fresh liquid state (Capsugel's patented Licaps® technology), Vitaslim DREN rids the body of excess water, toxins and accumulated fat. Its complex action provides much faster and more effective weight loss.
Swollen limbs, a swollen face and a soft belt surrounding the waist are a clear signal that the body is suffering from stagnant processes. Stored unnecessary substances are not only unpleasant in appearance, but also interfere with many important processes in the body. With its draining action Vitaslim DREN frees the body from retained fluids and provides a feeling of lightness and comfort. It restores the elegant and graceful appearance of the body. By accelerating fat burning, it provides effective and lasting weight loss.
Vitaslim DREN effectively removes toxins and reduces the negative effects caused by them.
Anti-cellulite action
The constantly swollen ring of retained waste is the culprit for the ugly dimples on the buttocks and thighs. Therefore, it is no coincidence that weak people also have orange peel. By disposing of these unnecessary materials, which significantly improves lymph flow, Vitaslim DREN visibly smoothes the accumulated cellulite. With its second action - reducing subcutaneous fat, it further polishes the problem areas and the skin there becomes smooth and beautiful.
VITASLIM DREN Dosage:
1-2 capsules daily after meals. For a better and lasting result it is taken daily for at least 3 months.
Contraindications: Not recommended for children, pregnant and lactating women. Not recommended for people with allergies to fish products (fish gelatin capsules).
VITASLIM DREN Composition:
The special combination of natural substances that help cleanse the body of useless substances includes:
Horsetail - a plant whose draining effect has long been confirmed by medicine. It supports the functions of the urinary system and increases urine output by about 30%. Horsetail has a high content of silicon, and it energizes the body and enhances the feeling of lightness.
Nettle - is known for its unique health benefits. It has an accelerating effect on the elimination of excess fluids from the body. Ensures the maintenance of optimal water balance in the body. Helps to effectively dispose of toxins released into the body naturally during metabolic processes.
Google - an exotic tree whose resin is a key component in ancient Indian Ayurvedic medicine. The active substance guggulsterone burns excess fat, keeping muscle tissue intact, speeds up metabolism and has a strong detoxifying effect. Thanks to these qualities, Google is an extremely effective means of losing weight.
CLA (Conjugated Linoleic Acid) - an ingredient with a clinically proven effect on weight reduction. Stops the process of storage and accumulation of fat in the body. Stimulates the burning of fat already accumulated in the body, which helps to lose weight permanently. Helps reduce belly fat.
Soybean oil - is fully absorbed by the human body and has an overall healing effect. Its inclusion in the composition of Vitaslim DREN is valuable because of the stimulating effect on the activity of the intestine and the improvement of the metabolism.
VITASLIM DREN QUANTITY in 1 capsule
Soybean oil, refined 136 mg
Conjugated linoleic acid (CLA, Clarinol ™ G-80) 100 mg
Horsetail (Equisetum arvense L), stem, dry extract, 7% silicates 100 mg
Nettle (Urtica dioica), roots, dry extract 100 mg
Google resin extract (Commiphora Mukul) 50 mg
Additionally contains: thickener: beeswax; water. Capsule: fish gelatin; colorants: titanium dioxide; patent blue V.
---