---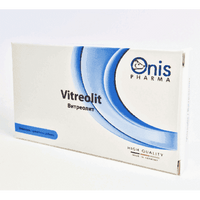 Sale
VITREOLIT is a food supplement for healthy eyes. It has a beneficial effect on good eyesight.
VITREOLIT Purpose:
VITREOLIT is a specially developed combination of collagen, coenzyme Q10, amino acids, hyaluronic acid and resveratrol.
The product provides effective support for maintaining optimal vision.
VITREOLIT Composition:
Coenzyme Q10 - 10 mg;
Resveratrol - 10 mg;
L - proline - 20 mg;
L - glycine - 20 mg;
Vitamin C - 90 mg;
Hyaluronic acid - 40 mg;
Collagen - 247.5 mg.
VITREOLIT Dosage and application:
1 capsule daily.
It is recommended to take the product for 3-6 months for optimal effect.
Do not exceed the recommended daily dose
It is not a substitute for a varied diet.
---