---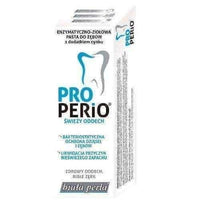 Sale
Toothpaste White Pearl ProPerio this enzymatic preparation and herbal enriched with zinc content.

Pasta bacteriostatic effect, making it neutralizes bad breath. It provides gentle whitening and effective protection of the gums.
Ingredients:
Aqua, Sorbitol, Glycerin, Silica, Cellulose Gum, Sodium Citrate, Sodium Lauryl Sulfate, Eucalyptus Blobulus Leaf Oil, Potassium Nitrate, Sodium Saccharin, Menthol, Sodium Fluoride, Xanthan Gum, Zinc Lactate, Eugenia Caryophyllus Flower Oil, Glucose Oxidase, Amylase, Amyloglucosidase, Salvia officinalis Extract, Bisabolol, Agrimonia Eupatoria Extract, Methylparaben, Thymus Vulgaris Flower / Leaf Oil. Fluorine content: 1300 ppmF.
Action:
Pasta White Pearl ProPerio was created for people who, because of halitosis suffer extreme discomfort and struggling with too sensitive gums. The unique formula of herbal enzyme is responsible for the bacteriostatic effect of toothpaste, so that it eliminates the bad smell from the mouth. In addition, it soothes the gums and strengthens them. Paste gently, enzymatically whitens teeth. Use: White Pearl toothpaste ProPerio fresh breath recommended for daily oral hygiene (teeth, gums, tongue), especially for people with the problem of bad breath from the mouth.

Additional information:
Keep out of reach of children.
Contraindications:
Do not use in case of hypersensitivity to any component of the paste. Not suitable for children.
How to use:
Wash your teeth with White Pearl twice a day. It is recommended to use a soft bristle brush.
---