---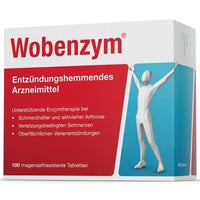 Sale
WOBENZYM enteric coated tablets 100 pc
Wobenzym ® gastro-resistant tablet

Areas of application:
For the supportive treatment of adults with swelling, inflammation or pain as a result of injuries, superficial phlebitis, inflammation of the urinary and genital tract; painful and activated osteoarthritis and soft tissue rheumatism (clinical picture with symptoms in the area of ​​muscles, tendons, ligaments).

Contains lactose.

For information on risks and side effects, read the package insert and ask your doctor or pharmacist.
Mucos Pharma GmbH & Co. KG, Miraustr. 17, 13509 Berlin.